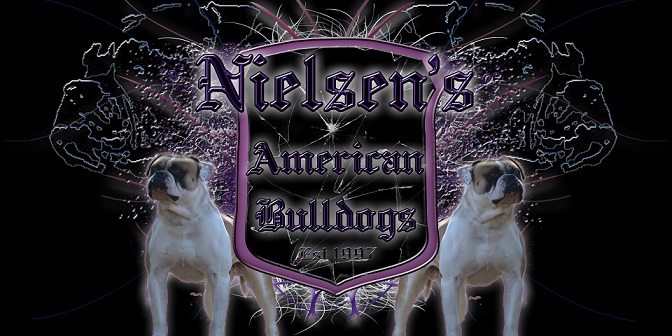 ---
| | | | | | | |
| --- | --- | --- | --- | --- | --- | --- |
| | | | | | | |
| | | | | |
| --- | --- | --- | --- | --- |
| | | | | |
---
---
Grand Champion
Dual Champion
Nielsen's/Conrad's Popin Smoke of DK
Titles Earned:
NKC Champion ~ Conformation Title
WP1 weight pull ~ Working Title
UKC Grand Champion ~ Conformation Title
NKC Champion ~ Conformation Title
UWP Ch weight pull ~ Working Title


aka Smoke
DOB -
WT - 115 lbs
HT - 25 ins


DK (Drislo Kennels)
Evan Strachan
Bolton, Ontario
Sire: CH KMK's King Mufassa
Dame: Leist's Dyna
NKC UKC ABRA Registered



Smoke is a completely wonderful addition to our program. He is here complements of one of my best friend. We couldn't have been more honored that
Smoke has been entrusted to us. We have watched Smoke grow from a young puppy into and incredible example of what an American Bulldog should look and act.
He has done well in the show ring earning both his NKC and UKC Championship titles, then went on to receive his UKC Grand Championship title. He also holds a few
weight pull titles. Smoke is very special because he is out of one of the best Mufassa breedings. Smoke is also currently one of the last breeding direct Mufassa sons. Smoke
has been retired from the ring and track for a little bit now. Smoke comes from lines who excel in just about everything. Smoke has one of the best temperaments
very loyal, and extremely loving.
He currently lives with my girlfriend Stephanie (Spade AB's) in Tennessee. And we are very pleased with how much love and attention he gets.
Just what every retired dog deserves.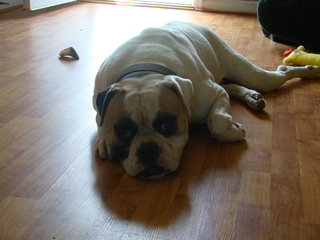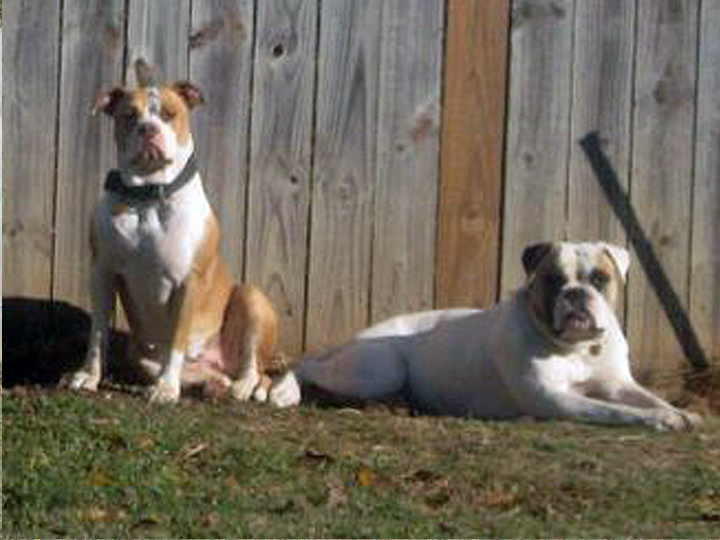 Health Testing

Hips

- .36 . 32

Elbows
- Normal
Cardic
- Normal
Thyroid
- Normal
Patellas
- Good
NCL
- Clear
ICH
- Pending
---
Copyright Nielsen's American Bulldogs© 2010-2015 Nielsen's American Bulldogs all rights reserved.
All information, photo's and contents contained on this website pertaining to our dogs or contracts, unless otherwise indicated, is solely the property of Nielsen's American Bulldogs. Any reprints or other dissemination are prohibited without written consent from Nielsen's American Bulldogs and is punishable by law.

This site was designed and developed by Nielsen's American Bulldogs