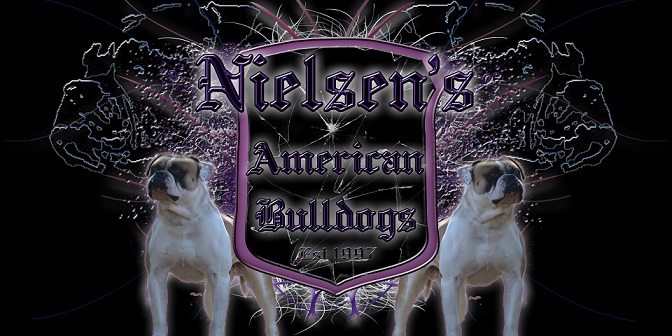 ---
| | | | | | | |
| --- | --- | --- | --- | --- | --- | --- |
| | | | | | | |
| | | | | |
| --- | --- | --- | --- | --- |
| | | | | |
---
Welcome to
Nielsen's American Bulldogs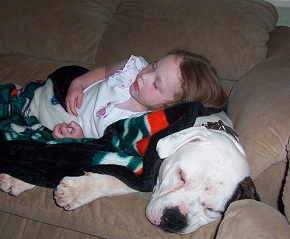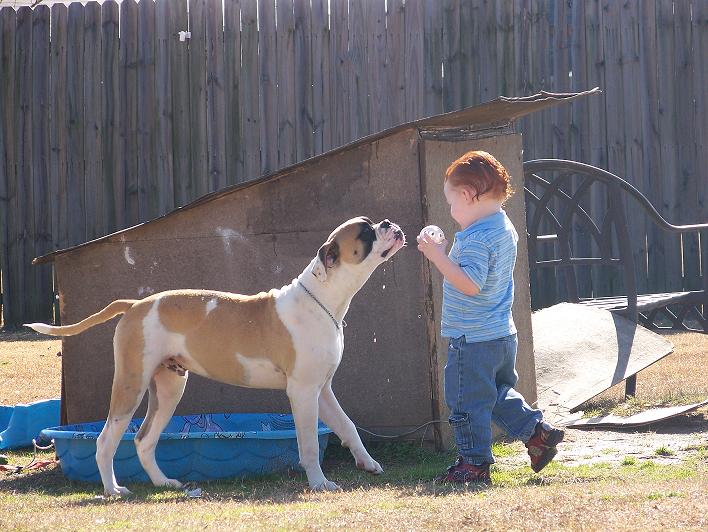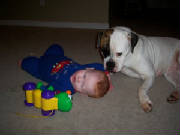 We are located in Jacksonville Florida

Please feel free to look around and find out more about me and my dogs.
Quick intro and some background for me. My name is Kelly and I am the sole owner of Nielsen's American Bulldogs.
I got my first American Bulldog July 1997. I had no idea what I was getting myself into. I knew nothing about the breed just knew that I had a
beautiful little female pup that had bright blue eyes; I was in love and thought she was the most beautiful dog to ever grace the planet. After a few short days
I realized she couldn't hear a thing. I was no where near prepared or ready to take on the responsibility of a deaf dog, so she was returned to the breeder and I got a
male; who I named Kane. He was a great dog and really sparked something in me to learn more about what an American Bulldog was; and thus the
research started.
Fast forward a few years and I had my daughter. Kane was amazing with her; very patient, loving, and protective. Kane was just a wonderful all around dog,
and I knew one day I wanted another one. I eventually moved to Las Vegas with my husband at the time and could not bring him with
us; so he stayed in Alaska. Once we were settled I convinced him to get 2 American Bulldogs. We picked up Baby who was 100% Johnson in Arizona
and a standard male Deuce in Florida. I loved my pups but quickly realized there were issues with both Deuce and Baby. But I still had no idea quite what I was
doing. Baby had temperament issues and Deuce had some health issues. Well I was in the mind-set that many are when they get new dogs I was gonna bred
them and hope to make my money back. So I started on the venture of becoming a breeder. I didn't at the time fully understand the importance of temperament
when dealing with these large dogs. All I knew was they were pretty great with my family but "protective" of them. I use word "protective" because that is the
most common way I hear and have personally used to make the excuse for human aggression and/or weak nerves. Baby was not protective in the sense that it
should be used. She was scared and would have bitten out of fear not protection (I did not fully understand that for a long time). I bred Baby twice; the first litter
I had no real issues other then a pup with skin allergies. On her second litter when she was bred to a 100% Johnson male and with that litter is when I the
importance of a strong stable temperament finally hit me.
By this time I was pretty involved in going to and competing in conformation with my dogs. I found out quick that it is not fun or cool to have a dog
either shy away or try and bite the judge (very embarrassing). Angel who was my keeper was great as a puppy. She did well in the ring and was a great little girl
at home. I also had another standard dog at the time named Buttons. Both of the girls were doing good and I was doing a lot of socialization with Angel.
Well it didn't end up doing much good as by the time she was 6-8mths old she became very skittish and nervy of everything. I kept working with her thinking
I could change temperament and make her better. In the end I had to put her down as she was very unpredictable and was afraid of everything. This is when
temperament came to the fore front and the base of what I was going to do and look for in my dogs. The most healthy dog isn't worth much if it can't go anywhere
or be around people.
I got the chance to pick up Tiko as an adult from a friend of a friend. She was a Lewis dog from out in Cali. She wasn't much to look at when I got her but
I saw potential. She was a great dog and hadn't really been exposed to much other then the family she lived with her first year and a half. But she
didn't shy or get scared of anything. I knew her temperament was want I wanted and what I wanted to lock in. I thought a long time about who I was going
to breed her to. My girlfriend Chrssy at Planks Pride had a litter back in the early years when we lived in Vegas out of Roxy and Bossman. I knew one day I
wanted to be able to breed to one of the dogs from that litter; and with Tiko I had that chance. So I decided to see about using JC's Ultimate Dually. He
had been doing well in the show ring and was a Dual Champion at the time and HE IS WHAT I WANTED. We did the breeding and it resulted in a litter
with 6 boys and 1 girl. I originally planned on keeping a female but with just one she had to be stellar and out shine all the males. Well although she was a
great pup both in looks, structure, and temperament she didn't quite do it for me. I decided to keep a male instead. There was a little red and white male who
I had always liked but wasn't set on him either; so I kept 3 males for evaluation. I sold 2 of the boys and the red/white male ended up staying. He had been
attached to me since he was a baby, and he was my favorite color. He had impressed from the first time he stepped into the show ring as an 8 week old
puppy in the puppy fun match. My daughter showed him both times and in a ring with 8 other dogs including his 2 brothers he took 1st place. He continued
to place 1st in his class from then on. He had a nice working drive, great temperament even as a young pup, and had great structure. That pup is Fraizer, and
he is what I strive to produce. He has a strong solid temperament, good drive, the ability to do anything that is asked of him, and he is a go anywhere do anything
kinda dog. He is what I think all bulldogs should be, whether they look like him or not.
A bulldog should be able to be around people and different situations and be trustworthy enough not to cause problems either by growling or attempting to bite
people or other dogs; and a bulldog should never be shy or skittish.

If you ever have any questions or just want to chat bulldog please feel free to give me a call anytime.
803-464-8682
Thanks Kelly

---
Copyright Nielsen's American Bulldogs© 2010-2015 Nielsen's American Bulldogs all rights reserved.
All information, photo's and contents contained on this website pertaining to our dogs or contracts, unless otherwise indicated, is solely the property of Nielsen's American Bulldogs. Any reprints or other dissemination are prohibited without written consent from Nielsen's American Bulldogs and is punishable by law.
This site was designed and developed by Nielsen's American Bulldogs