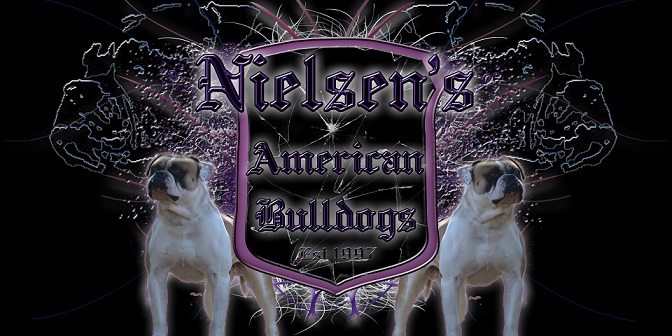 ---
| | | | | | | |
| --- | --- | --- | --- | --- | --- | --- |
| | | | | | | |
| | | | | |
| --- | --- | --- | --- | --- |
| | | | | |
---
---
RIP Sweet Boy!
Nielsen's Michelin Man
Awards:
Drivest Puppy 2nd Place 3-6mths @ 8wks
Drivest Puppy 1st Place 6-9mths
2x Best Bully Male
Best In Show

aka Mich
DOB - 2-2-11
WT - 91lbs
HT - 23in
Spades American Bulldogs/Nielsen's American Bulldogs
Stephanie Spade/Kelly Nielsen
Sire: SGCH Nielsen's I'll Knock You Out
Dame: Spades Orange Crush
NKC and ABRA Registered

Michelin is deeply missed here. We had very high hopes for his future and he proved again that Fraizer is a great producer of sound
temperament, structure, and movement. With out answers to why he passed before his time, but his mark on my heart and soul will be
there for ever. Mich had great promise from the day I picked him up in Tennessee. He had very high drive and loved to bite and challenge everything and
everyone. He took 2nd in this first ever drivest puppy at only 7wks of age against puppies almost 5mths. He did well in the show ring as well, he was only 15pts
sort of his NKC adult Championship. He will always be missed.
Rest in Peace Sweet Boy!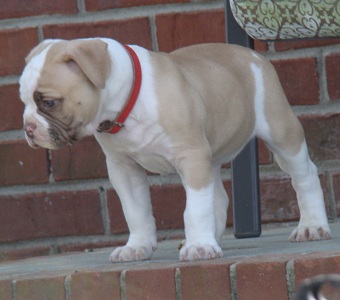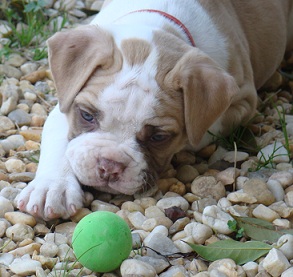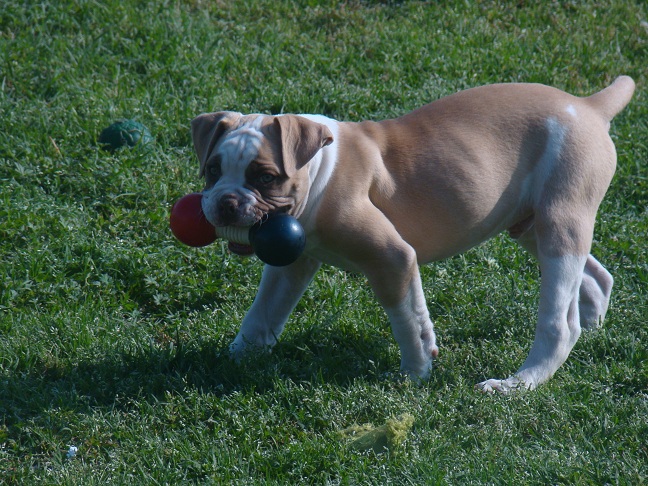 Supreme Grand Champion 3x Champion Niense's I'll Knock You Out
ABTT, CGC, DHT, GDT, IDT3, WP1,
WB1, WP3, WTE

GrandCh JC's Ultimate Duelly of Planks Pride
PH .44.41
NKC GTT1

GrandCH Barbosa's Bossman "Bee Bop" of Maple Grove
CH KMK Muffasa of MGK PH .31.37
CD1, CGC, GDT, IDT1
MGK's Brahma the Bull IWPA Gold Medalist
MGK's Stumpy Red
IWPA Gold Medalist
Maple Grove's Miss Bully PH .46.54
IWPA Sliver Medalist, WP3
MD Brando
GWK's Big Daddy Cool Little Bit "Rudy"
Plank's Pride Princess Roxann Tigerlilly
Tugnut's Simon of Manstoppers
PH .46.52
Bailey's Iron Man Tyson
OFA Good
Johnson's Incredibull Hannah IDT BST GDT OFA Good
Urban's Sad Eyed Cinnimon
Johnson's Peter of MBK
Johnson's Collette of MBK
Nielsen's Total Knock Out of Lewis'
UWP WB1 WP1

Lewis' Big Red Machine "Chopper"
IWPA Sliver Medalist, WP3
Lewis' Red Bull
OFA Fair IWPA Sliver Medalist
A&K's Sonny
A&K's Jewel Pieces of Lady
Lewis' Shiva
IWPA Bronze Medalist, WP2
Kania's White Knight
Kania's Zena
Lewis' Gold Digger
GWK's Alcatraz
GWK's Big Daddy Cool
GWK's Scarlet
Grimm's Machine 17
GWK's Landshark - Duncan
Grimm's Machine Minnie
Spades Orange Crush
Spade's Blue Chopper of NTK
Sir Shamrock of Norristown
Desert Sands Brutus
NMB's Lil' Lefty
Desert Sands Kenosha
Bozeman's Lexus
Johnson's Rebel Rouser 33
Brandi Wine Bear
Bosdog's Isabella of Norristown
CH KMK Muffasa of MGK PH .31.37
CD1, CGC, GDT, IDT1
MGK's Brahma the Bull IWPA Gold Medalist
MGK's Stumpy Red IWPA Gold Medalist
Daisy's Tigar Lilly of High Country
High Country Bo
High Country Scarlett
Carly
---
Copyright Nielsen's American Bulldogs© 2007-2010 Nielsen's American Bulldogs all rights reserved.
All information, photo's and contents contained on this website pertaining to our dogs or contracts, unless otherwise indicated, is solely the property of Nielsen's American Bulldogs. Any reprints or other dissemination are prohibited without written consent from Nielsen's American Bulldogs and is punishable by law.

This site was designed and developed by Nielsen's American Bulldogs